Weddings
Personalised Wedding Gifts Engraved With Your Special Message.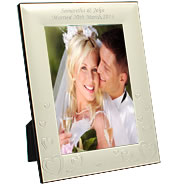 Love Heart Photo Frame - From £13.99
Our love heart photo frame is the perfect gift for the bride and groom and we have this frame available in many sizes.
This personalised wedding photo frame can be engraved with any message.
Available in 6x4, 7x5, 6x8 and 10x8 and wall mountable.
Limited offer while stock lasts.
There is no better way to thank your bridal party or your guests than giving personalised presents to celebrate the most important day of your life.
The beautiful inscription can contain any message but most importantly it is meaningful to you and your loved ones and is related to your special day. Engraved glasses are the gift of choice; the elegance and beauty of our wine and whiskey glasses are the ideal present for bridesmaids, groomsmen and mothers and fathers of the bride.
The old tradition of gifting the newlyweds with something for the home is long since out-dated, as most wedded couples now live together before the nuptials take place. Instead, a gift that is still useful yet meaningful is the ideal alternative.
A personalised photo frame is one of the most treasured gifts as it serves as a permanent reminder of the happiest day of their lives. Adding their new marital names and wedding date to the surrounding of the frame is the perfect way to make the gift personal to them.
Champagne glasses with a personal inscription are another ideal gift for the happy couple, especially for couples close to you. The stunning flutes allow the couple to toast their recent marriage together, in a sentimental and elegant way.
A wedding isn't just about the happy couple, but about the people that share the special day with them and help to make the day as happy and as memorable as a wedding should be. The best man, bridesmaids and parents of the bride and groom play a vital role in the day and should be gifted with the perfect present to say thank you for all they have done.
Showing your appreciation is easily done with a personalised gift such as engraved cuff links for the males and compact mirrors with a beautiful inscription for the ladies. Keep it Personal have a range of gifts to suit every member of your bridal party and the people you wish to thank the most. The added engraving with an individual message means the gift can be treasured forever and is a constant reminder of such a special day.
If You Need Some More Inspiration...
If you are running out of ideas, this gift buying guide will head you in the right direction, the guide has an overview of our best products and broken down into gift guides for the bride, groom and wedding guests.
Featured Products - Weddings
Monthly Specials For August